Journal of Experimental & Applied Mechanics
eISSN: 2230-9845
ISSN: 2321–516X
SJIF: 4.676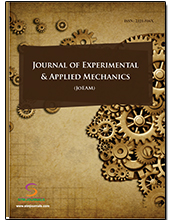 Editor, Reviewer and Author
Journal of Experimental & Applied Mechanics (JoEAM) is a print and e-journal focused towards the rapid publication of fundamental research papers on all areas of Experimental & Applied Mechanics.
Focus and Scope Covers
Fluid Mechanics
Analytical Mechanics
Computational Mechanics
Solid Mechanics
Continuum Mechanics
Thermo Mechanics
Experimental Mechanics
All contributions to the journal are rigorously refereed and are selected on the basis of quality and originality of the work. The journal publishes the most significant new research papers or any other original contribution in the form of reviews and reports on new concepts in all areas pertaining to its scope and research being done in the world, thus ensuring its scientific priority and significance.