Journal of Mobile Computing, Communications & Mobile Networks
eISSN: 2349-901X
SJIF: 4.949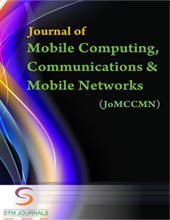 Editor, Reviewer and Author
Journal of Mobile Computing, Communications & Mobile Networks (JoMCCMN): Journal of mobile computing, communications & mobile networks is presenting comprehensive coverage of fast moving field, this journal provides the R&D communities working in telecommunication and networking industries with the sharing of research and ideas. This journal reflects the new trends of standards like development, emerging technologies.
Focus and Scope Covers
Cellular networks
Channel allocation, multiple access, location management , handoffs
Wireless transmission basics
MAC protocols, routing, transport, ad-hoc
Networking GSM, HSCSD, GPRS
Satellite and broadcast systems
Mobile internet protocols
Mobile business apps using the sybase unwired platform
Security, scalability, and reliability issues
Mobile ad hoc and sensor networks
Power management and control algorithms
Wearable computing and networking
All contributions to the journal are rigorously refereed and are selected on the basis of quality and originality of the work. The journal publishes the most significant new research papers or any other original contribution in the form of reviews and reports on new concepts in all areas pertaining to its scope and research being done in the world, thus ensuring its scientific priority and significance.